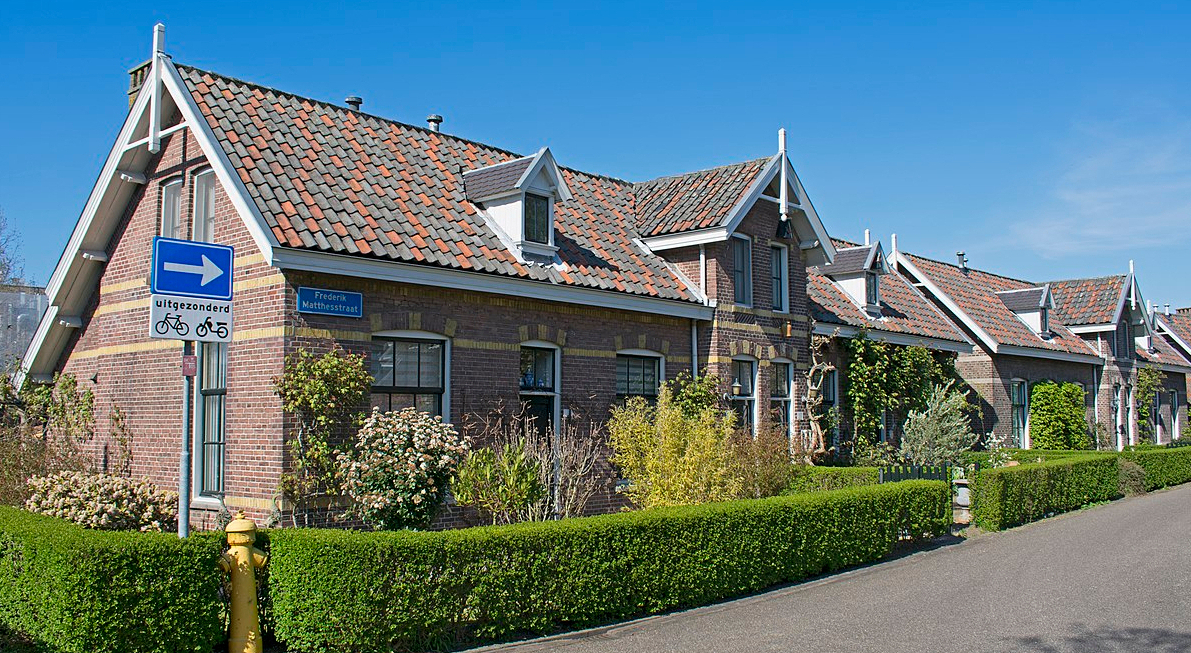 Agnetapark

Delft, Netherlands
This company town in the Netherlands is a garden city avant la lettre.
Garden City Type:
Former company town
Country:
Netherlands
City:
Delft
Years of construction:

1884 Start construction

1925 Completion

Initiator/client:
Jacques van Marken
Architect or related:

E.H. Gugel

Eugen Heinrich Gugel (1832-1905) was a German architect and the first Professor of Architecture at the Polytechnic School in Delft.

F.M.L. Kerkhoff

Franciscus Marinus Lucas Kerkhoff (1858-1909) was a Dutch engineer-architect. He worked as an assistent for Gugel in Delft and was a city architect in Den Bosch.

Louis Paul Zocher

Read more ...
| | |
| --- | --- |
| Heritage status: | Yes |
| Explanation: | Agnetapark as a whole has been a national monument since 1989. In 2011 the park was also designated a protected cityscape. Agnetapark is also included in the list of the 100 most important monuments in the Netherlands. |
| General condition of Garden City: | Good condition |
General description
Jacques van Marken (1845-1906) was the director of the Koninklijke Nederlandsche Gist- en Spiritusfabriek (Royal Dutch Yeast and Spirits Factory, now part of DSM) in Delft, a chemical and pharmaceutical company. Van Marken was strongly involved in the welfare of his employees. He was the first social entrepreneur in the Netherlands to introduce numerous improvements aimed at the workers, such as an accident insurance, profit-sharing, company training, and schooling for the workers' children. He was also the first employer in the Netherlands to introduce a works council ('Kern') and De Fabrieksbode (The Factory Messenger), the first company magazine in the Netherlands.
To provide for affordable and clean accommodation for his personnel, he bought a park area on the edge of the centre of Delft in 1881 for 16,000 guilders. Agnetapark subsequently was built in 1884 and extended in 1925. The park is named after his wife Agneta Matthes (1847-1909), a driving force behind the success of her husband's company. She was an entrepreneur herself as well, running the perfume factory Parfumerie Maison Neuve.
Architecture / Urban planning
Agnetapark is a set of workers' dwellings situated in small groups. The oldest section has a lot of green, with a park and a (stomach-shaped) pond. A total of 78 workers' dwellings were to be built here, each house having seperate bedrooms and its own garden. These were designed by architects E.H. Gugel and F.M.L. Kerkhoff in the style of detached English cottages, each cottage containing four workers' dwellings with their own front door. Besides houses, Agnetapark also had a Gemeenschapshuis (Community House), a wooden recreational building called 'De Tent' (replaced in 1914 by De Lindehof, designed by architect Henri Evers), and a bandstand where events took place regularly. Jacques and Agneta themselves lived in a villa in the middle of the neighbourhood: Villa 'Rust Roest' ('Rest rusts'.) Apparently a lot of workers on their way to the factory passed this saying every day. Unfortunately, the villa was demolished in 1981, before Agnetapark became a national monument.
This extension to Agnetapark from 1925 was built in a style related to the Amsterdam School and designed by Jan Gratama. It includes many dwellings, a community building (the 'Park Office'), originally also a shop on Wallerstraat, entrance gates/passages, and brick gazebos with pointed roofs that are incorporated into the garden walls. The woodwork is uniformly yellow, green and white. This section also has a large pond, albeit rectangular-shaped, around which the houses are built.
Two styles: 1884 (left) vs
Read more ...
Residents and the Community
Social binding was stimulated by the founding of a number of associations, such as theatre associations, a variety of sporting clubs, communal vegetable gardens and hobby clubs for instance.
Sources
Organizations
Legend