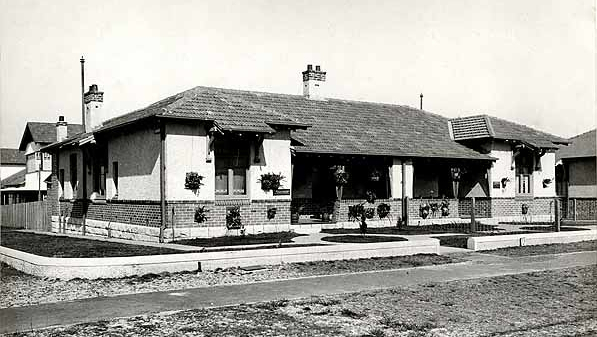 Daceyville

Sydney, Australia
Australia's first public housing scheme, born in response to the appalling living conditions of the working class in late-nineteenth-century Sydney and influenced by the Garden City Movement.
Garden City Type:
Mixed (housing association / municipality / other)
Country:
Australia
City:
Sydney
Years of construction:

1912 Start construction

1920 Completion

Initiator/client:
John Rowland Dacey (1854-1912)
Architect or related:

John Sulman

Sir John Sulman (1849-1934) was an English-born, Australian architect. From 1921 to 1924 he was chairman of the Federal Capital Advisory Committee and influenced the development of Canberra, which was influenced by the garden city movement. He, together with John Hennesy, made the plan for Daceyville.

John

Read more ...
| | |
| --- | --- |
| Heritage status: | Yes |
| Explanation: | Daceyville in 1991 was listed on the Register of the National Estate (a heritage register that listed natural and cultural heritage places in Australia, but which was closed in 2007 and replaced by various other heritage registers). It is also protected by a strict Development Control Plan.  |
| General condition of Garden City: | Reasonable condition |
General description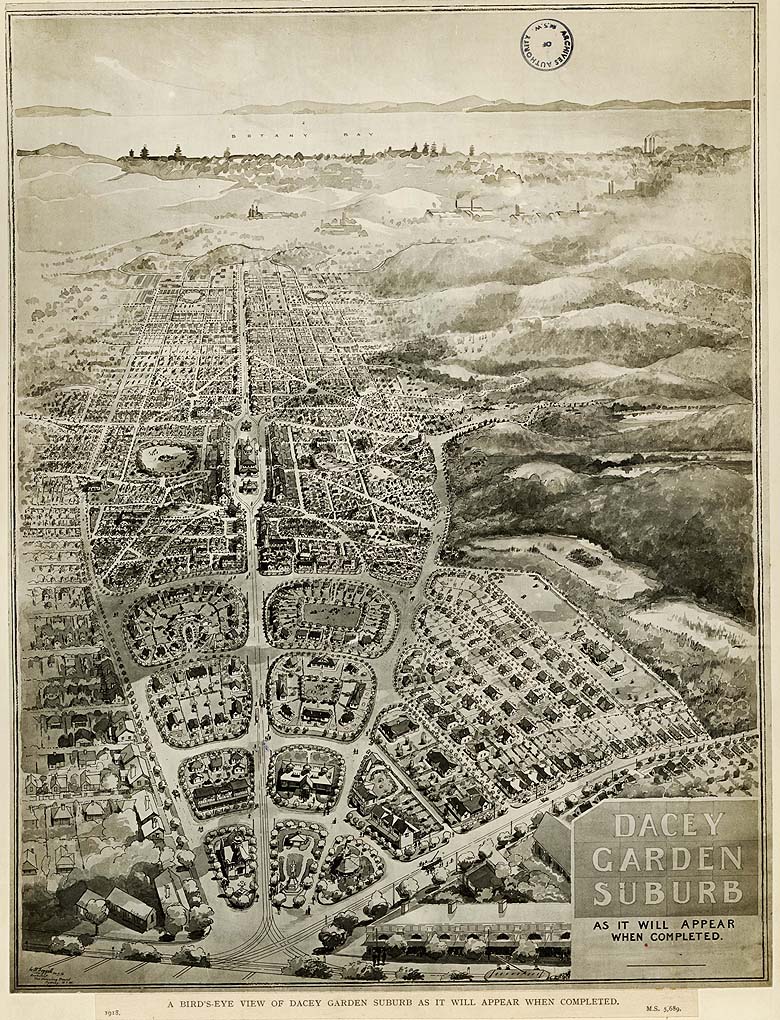 Bird's eye view of Daceyville (1918).Daceyville is a small suburb six kilometres south of Sydney central business district. It is named after John Rowland Dacey (1854–1912), who was a state parliamentarian for the area from 1895 to 1912. He urged the creation of a garden suburb modelled on the garden city of Letchworth.
Originally named Dacey Garden Suburb, it was executed after his death by the state's first Labor government, with the aim to provide low-cost housing for working-class people. Not long before he passed away Dacey said the following:
"The day is past, when free Australians were content to be herded together in terraces of mere dog-boxes. In some suburbs they are compelled to herd together like flies . . . the time has come when we should create a Garden City and provide houses of an up-to-date character at the lowest possible rental."
Three street layouts were eventually produced for Daceyville, with the second plan, drawn up by John Sulman and John Hennessy in 1912, providing the basis for much of the suburb as it stands today. Daceyville was to be a large self-contained suburb that was to extend to Botany Bay in the south, complete with its own tramline, schools and shops. But lack of funds, rising building costs and criticism by Charles Reade of the British Garden Cities and Town Planning Association made progress difficult. Therefore government architect William Foggitt revised part of the plan, mainly east of Cook Avenue, and made it smaller with curvier
Read more ...
Architecture / Urban planning
Daceyville starts in the north, where Gardeners Road and Bunnerong Road intersect to form a small park named Dacey Gardens. From there the fan-shaped layout stretches southwestward, with Cook Avenue and Banks Avenue as important throughfares. These avenues are also some of the most unique residential avenues in the surrounding area, with trees lining both the sides and – very unusual – the medians of the roads.
Compared to most areas in Sydney, Daceyville was well-serviced, boasting amenities we now consider basic, such as sewerage connection, curbed streets and electricity. The style of the houses can be described as Federation architecture (an architectural style in Australia that was prevalent 1890-1915). Outdoor sleeping was then considered the healthier option, so large verandas were an important feature of the housing.
Gardens were a very important factor to Daceyville and its success. In the middel of the Daceyville is a small park named Haig Park that is encircled by houses, while in the south are two larger parks: Rowland Park (also named after John Rowland Dacey) and Astrolabe Park - with in between them sports fields.
Daceyville was one of the first suburbs in Sydney to have fenceless front gardens (no front or back fences were permitted), breaking down the boundaries between public and public space. All residents had enough land to grow their own food. Homes opened at the rear onto small parks where children could play. Daceyville also features Australia's first cul-de-sac
Read more ...
Recent developments
In 2021, the New South Wales government began auctioning properties in Daceyville, transferring them to private ownership after having previously been used as public housing for over 100 years.
Sources
Organizations
Legend