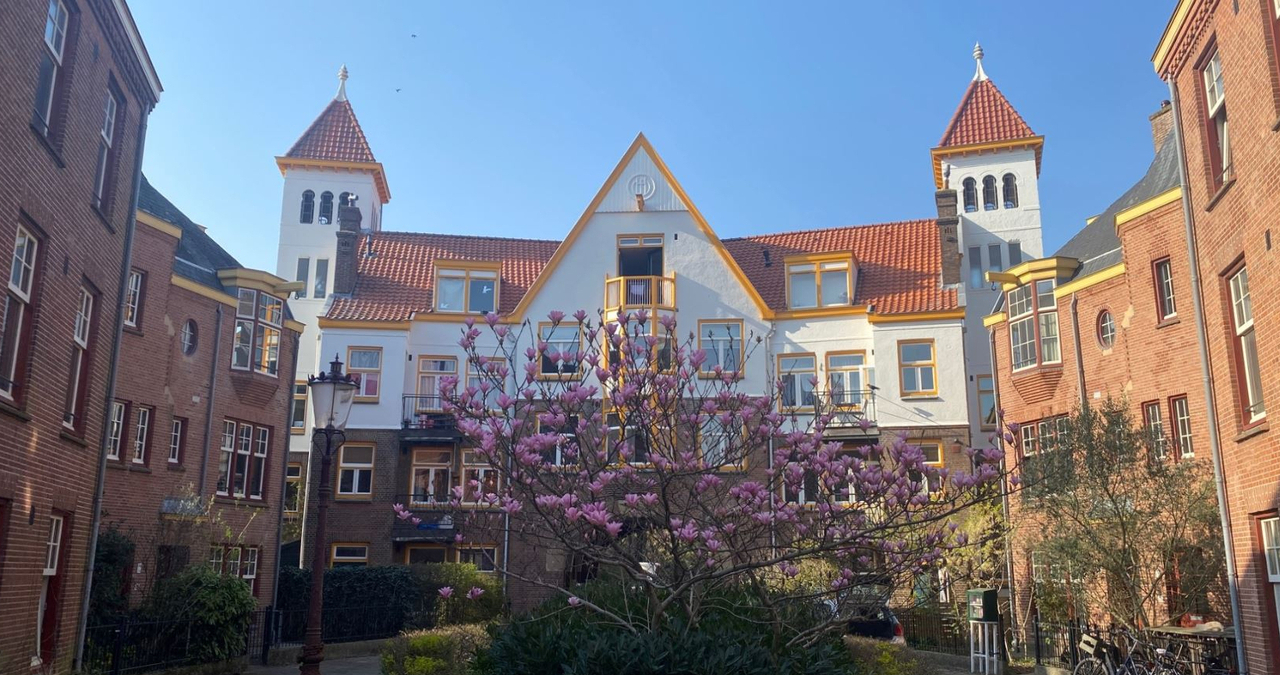 Zaanhof

Amsterdam, Netherlands
The Zaanhof is a beautifully designed housing complex around a green courtyard in the middle of the bustle of the city.
Garden City Type:
Mixed (housing association / municipality / other)
Country:
Netherlands
City:
Amsterdam
Address:
Zaanhof
Years of construction:

1916 Start construction

1919 Completion

Initiator/client:
Woningbouwvereniging Het Westen
Architect or related:

Herman Walenkamp

Hermanus Johannes Maria Walenkamp (12 December 1871 - 24 September 1933) was a Dutch architect and graphic designer.
| | |
| --- | --- |
| Heritage status: | No |
| General condition of Garden City: | Recently renovated |
General description
The Zaanhof is right next to Het Schip, a beautifully design housing complex around a green courtyard in the middle of the bustle of the city. Although the architecture is not directly linked to the Amsterdam School, there are certainly parallels.
Over a century ago, the architects of the Amsterdam School built beautiful residential complexes for workers in the Spaarndammerbuurt of Amsterdam. Beauty, space and greenery were important starting points. Right next to Michel de Klerk's famous Ship, architect Herman Walenkamp built the Zaanhof: a beautiful, almost village-like area, where residents could relax after work in the factory or in the harbor. Although Walenkamp did not officially belong to the Amsterdam School movement, he was involved in the same ideals and ideas. Next to some parallels with the Amsterdam School, the Zaanhof is one of the early examples of the influence of the garden city movement in Amsterdam.
Architecture / Urban planning
The most important piece of regulation that influenced the poor housing situation in Amsterdam was the Housing Act of 1901. One of the regulations included in this housing act stipulated that Amsterdam had to make expansion plans to accommodate the inhabitants. For the still undeveloped part of the Spaarndammerbuurt, where the Zaanhof is now located, an expansion plan was drawn up in 1912 by the aesthetic consultant at Publieke Werken J.M. van der Meij. Socialist councilor Floor Wibaut strongly criticized the plan.
Human warehouses
The Zaanhof was designed as a straightforward street with a rectangular block of houses of four floors on both sides. If buildings were four floors high everywhere, there would be the same worrying density as in the overcrowded Jordaan or the Pijp. Neighborhoods like this were of such poor quality that these houses were known as human warehouses.
There was harsh criticism on the plan of Van der Meij. According to Floor Wibaut, it was poorly designed from an aesthetic point of view. With the Housing Act of 1901, the quality of houses was regulated by law, which city innovators such as Arie Keppler and Floor Wibaut seized upon to realize their ideas for these working-class neighborhoods. Good quality houses alone were no longer enough, they also wanted beautiful houses and a pleasant living environment.
New plans for the neighbourhood
Arie Keppler was eager to bring forward new ideas and concepts related to urban design and the development of
Read more ...
Recent developments
Zaanhof nowadays is the property of housing corporation Lieven de Key.
Sources
Organizations
Legend